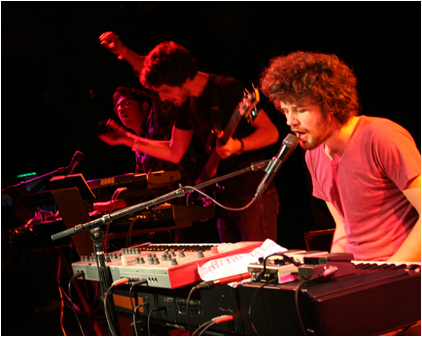 via LAS magazine

Edit: I just listened to some of EP today and it's awesome. The countdown begins.

Hailing from the non-Brooklyn city of Boston, Passion Pit was introduced to me by someone who sits a couple seats away from me every day and not by choice (Thanks, Nick!). I wish I could recall the exact words he used to describe Passion Pit, but all I remember is MGMT meets ... 5-6 other bands. The five-piece Passion Pit, led by Michael Angelakos, was recently picked up by Frenchkiss Records, home to The Dodos, Les Savy Fav, and The Hold Steady. They've also opened for Girl Talk, so they have something in common with Tay Zonday of "Chocolate Rain" fame. I haven't heard that much yet, but I'm curious to hear more.

Chunk of Change EP is due on September 16, and an LP is to be expected in early 2009.

Tracklist (via Hate Something Beautiful)
1. I've Got Your Number
2. Batty Lashes
3. Smile Upon Me
4. Cuddle Fuddle
5. Tons of Guns
6. Live to Tell The Tale
7. Better Things (Bonus Track)
8. Sleepyhead (Bonus Track)

Passion Pit will be performing at Piano's on August 13, 20, and 27. Check 'em out if you can!

Sleepyhead - Passion Pit


Better Things - Passion Pit



More free downloads at Last.fm.