Note: Blogger took down the original post due to DMCA issues



Passion Pit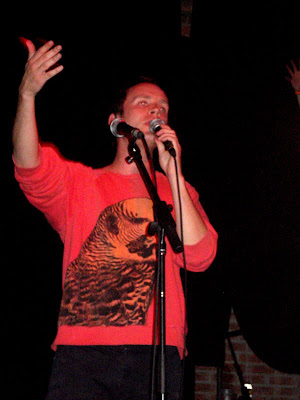 Singing DJ Jens Lekman
via Escape Sounds

Passion Pit = HOT
As you can see to the right, Passion Pit has been one of my current obsessions since their pre-Forkcast days. To put it lightly, they killed last night. Without much surprise, these guys have definitely grown since their first show at Pianos. I'm sure that it helps that everyone is talking about this band. Talk about a great confidence booster. I'd wondered how Passion Pit would fare on the larger stage of MHOW, but it turned out that a bigger setting was more appropriate for PP's sound and energy. Compared to the Pianos set, everyone looked visibly more comfortable and as if they were actually (gasp) having fun. What really caught my attention about this performance was that Michael Angelakos varied up the vocals a bit so that he wasn't singing in his upper range the entire time. There were some concerned comments about that from the first Pianos show, and it seemed like Angelakos had taken them to heart. Passion Pit played a great version of "Better Things," which was one of the first tracks that hooked me into this band. I like when bands sound slightly different live and still manage to deliver. Isn't this the point of seeing any show? Anyway, there was a song (or two?) that I didn't recognize, since they're not on Chunk of Change. Setlist, anyone?

A Singing DJ is exactly what you'd expect
I should have gone into this with no expectations. Instead, I dreamt of Jens' emotionally manipulative voice, serenading the crowd with lyrics about how his heart has been set on fire. So, maybe I set myself up for this letdown, because a singing DJ is exactly that – a DJ who occasionally sings. Singing DJ Jens Lekman's set was interesting, to say the least. He spun "Fantasy" by Mariah Carey,which is arguably one of the best pop songs of the '90s (Confession: Fantasy may have been one of the first CDs that I'd owned). Regardless of good DJing choices, Jens' performance of "Sipping on the Sweet Nectar" was not enough to satisfy. I wish there would have been less spinning and more singing. I guess I was hoping for a DJing singer.

I kinda liked Ponytail (K., don't kill me)
Ponytail confused me at first, and now I'm intrigued. Is Ponytail my new Animal Collective? Will be listening to them when I get home today.

Also...who is Thor of Shearwater?
Wikipedia tells me that he is a musician, painter, and carpenter. His instruments include "found instruments and homemade instruments." All I know is that he wears a braid, played a hammer dulcimer, and people kept on yelling out his name. A great name, too.

Official BV announcement here.

More Passion Pit here. More Jens here.